Blog :: From snout to tail
Compare the digestive systems of a monogastric and a ruminant animal
" Investigate and compare the digestive systems of a monogastric and a ruminant animal, using real or virtual examples"
YES it is part of the new syllabus in QLD and it is listed as a mandatory practical – but they wrote it without consulting anyone in the industry.
Sheep stomachs are not only difficult to get, they are impossible to package.
They are difficult to get because they are hard to transport. Nobody wants a bucket full of sheep farts in their meat truck
Because of their diet and digestive processes, the stomach continues to inflate with gas long after it is removed from the animal. By the time it gets to me I can't get it into a bag, let alone into the cryovac machine. We have found in the past that freezing doesn't stop it – it just keeps getting bigger.
Pig stomachs are a different story. We often have a couple in the freezer. They look like Lady Gaga's handbags.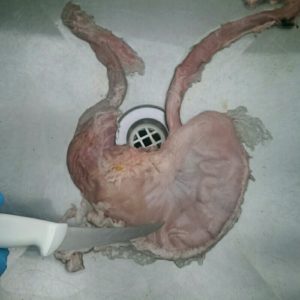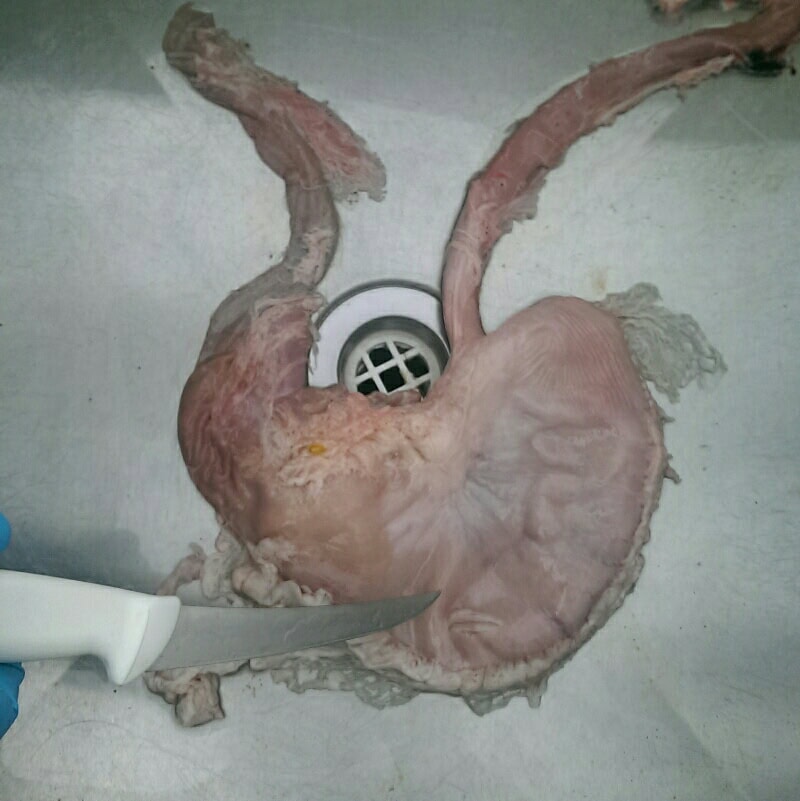 In the meantime have a look at this nice little slideshow online comparing the two.

This entry was posted on February 12. 2019 by Miss Vivi
From snout to tail: teeth for experiments
I have prepared these piglet teeth and bones which should do the trick for teeth experiments. These are from the upper jaw and I have also cleaned up the lower jaws.  If you are in need of some let me know what you are looking for and we can work out a price based on what you need. Don't forget you can always harvest the teeth from your own piglet specimens as well.
We do also sometimes have human teeth that have been autoclaved and are in steripacks for $2 each.  Drop me a line and I'll let you know what we have in stock.

15 Sept 2016
This entry was posted on September 15. 2016 by Miss Vivi
From snout to tail: what's a moderator band?
This entry was posted on September 09. 2016 by Miss Vivi
Earthworms wriggle their way into Dissection Connection
Mr Vivi is having such a marvellous time with his earthworm research. His degree is in natural resource management, you know, so this is his native habitat.
An earthworm dissection has been included in a Yr 7 science textbook this year and it's thrown everyone up here into a bit of a spin.  We've had several requests to supply them , so he's bought himself some earthworms and he's feeding them up so they will be nice and fat.  He's really enjoying it, actually!  He talks to them when he feeds them 🙂
He has also been testing a few methods of preservation that don't use formalin and I think he's come up with a good method.
He's shown me what he finds when he dissects them and it's really interesting.  Much more interesting than I thought it would be.  He dissected earthworms at Uni so he knows what to look for.
If you're after earthworms for the classroom then drop me a line and I'll have you sorted out in no time.

27 Jul, 2016
This entry was posted on July 27. 2016 by Miss Vivi