African Swine Fever risks genetic diversity of pig populations globally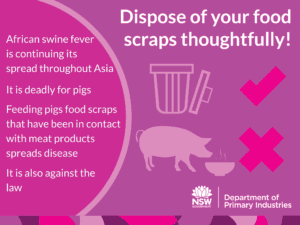 We've all seen the awful images of thousands of pigs being destroyed across Asia recently from countries that have been hit with African Swine Fever (ASF) and it is not only devastating for their agricultural producers, it threatens the food security of those nations. Small scale farmers are the hardest hit as they can lose their entire herd in one day.
This isn't only a global crisis in terms of food production. It also has widespread implications for the genetic diversity of pigs around the world as up to one quarter of the world's pigs have been culled by September 2019 to try and halt the spread of the disease.
Australia has been lucky so far and African Swine Fever has not been detected in Australian pig herds. However, two Western Australian men were jailed very recently for illegally smuggling boar semen from overseas through our airports – and they have been doing it since at least 2009.  ASF was detected in Europe as early as 2007.  It would only take one batch of infected semen to wipe out most of our domestic herds as well.
Imports of pork from affected countries have been restricted as the disease can also be spread through infected meat.  But we've all seen the TV shows where tourists are found trying to bring all sorts of biosecurity hazards in their suitcases – and those are just the people that get caught on camera at airports.
NSW DPI Biosecurity says:
"East Timor has become the latest Asian country to be hit with African swine fever, following China, Mongolia, Vietnam, Cambodia, North Korea, South Korea, Laos, Myanmar and the Philippines.
ASF is a highly contagious viral disease of domestic and wild pigs.
Australia is currently free of ASF but meat products containing these pathogens may be illegally imported into Australia undetected by quarantine.
Feeding food scraps 'swill' that has been in contact with these products may lead to serious diseases in pigs including foot and mouth disease and African and classical swine fevers.
Banning the feeding of prohibited food waste to pigs and ruminants provides an important defence against these and other serious livestock diseases to Australia.
For more information, visit http://bit.ly/2AY4Es6"
So, Vivsters, for the sake of our farmers who are already struggling so much to survive, for the sake of our own national food security and the global effort to feed the world and keep the peace, and for the sake of science and strong genetic diversity in all the world's species – be alert, be a little be alarmed, be informed and spread the word about how vitally important biosecurity is to the future of all nations.

3 Oct 2019
This entry was posted on October 03. 2019 by Miss Vivi
Happy Birthday Mr Vivi!
This entry was posted on August 17. 2019 by Miss Vivi
New year, new shoes!
New year, new shoes.  Silver glitter Doc Martens. That's how we're gonna roll in 2019, Vivsters!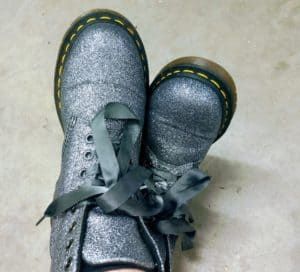 I was pretty stoked to find these boots in a shoe shop in Canberra in December.  Last time I went to a Docs shop they were thrilled to be able to offer me a choice of black or blue *yawn*
My mum says I'm going to cry the first time I spill blood on them – and she might be right – but I promised Mr Vivi I would try and be more cheerful on the way to work in the mornings if I had them on my feet.  Miss Vivi is NOT  a morning person!
It's the first day back at school and lots of you will have new shoes.  Show us what you've got, Vivsters!
This entry was posted on January 29. 2019 by Miss Vivi
A WTF is that moment in the pluck bucket
Switch to virtual dissections, they said!
It'll be fine, they said!
It's all fun and games until someone loses a kidney. Even I had a WTF is that moment in the pluck bucket yesterday – after 20 years of looking at them.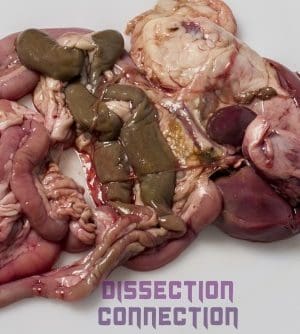 This article about a surgeon that mistook a kidney for a tumour in a patient and removed it popped up in my Facebook feed today. You can read the full story here.  I don't know how or where the surgeon was educated, but I do often hear from those in the classroom that virtual is the way of the future.  However – that isn't what I hear from actual health care professionals. The support for dissection from the people you are relying on when you are sick don't support virtual dissection as the only tool for learning gross anatomy.
We genuinely are all unique in our own ways and I want a doctor that has had some actual meat in their hands before they get to mine. How about you????
If we don't keep the community generally educated in science then the need for science education becomes less valued by society. That can lead to mistakes like this happening and that can have very real consequences for real people and their families.
So I'm setting you a challenge. Do a virtual dissection online. Do the best one you can get Google to give you. Do it as many times as you like. Then dissect the real thing. I guarantee you that you will find it easier than going in without any pre-study at all, but I also guarantee you that you will have moments when you think "hang on, what am I looking at here?" and have to work a bit harder to get the full picture.
Now put yourself in the shoes of your average kid in Junior Science. They deserve a fighting chance at understanding their bodies properly so they can make good decisions later in life – especially if they find themselves hanging over you with a scalpel in their hand one day.
This entry was posted on November 27. 2018 by Miss Vivi