Top Tip: Simulated Blood Powder Preparation
To make up the solution, introduce 500mL of hot water into a beaker on a
magnetic stirrer.  Add the powder and leave to stir until it is all dissolved.
To test for complete dissolution scrape a bit up the side of the beaker using a
spatula. If the powder is not fully dissolved you will see small dark spots in the
liquid.
The sachet contains enough powder to make 1L of solution, but when I made
up a sample I dissolved the powder in 500mL and I thought the consistency was
just right.
When the powder is fully dissolved make the solution your desired consistency
by adding more water to a maximum volume of 1L.
To add 'blood clots' make a batch of port wine jelly and freeze it. Break up the
frozen jelly into pieces and mix with the artificial blood solution.
The solution is based on methyl cellulose so it's probably best stored in the
fridge.
This product is sold as blood simulant for medical training centres and also as
stage blood. Mr Vivi put a dollop on the back of his hand and it stained him for
a couple of days.

This entry was posted on September 04. 2015 by Miss Vivi
Special Specimens: it's a heart, Jim, but not as we know it
Sometimes something so unusual appears that we can't help ourselves and we have to cut it up ourselves. This heart presented us with one of those times.
On the outside it was rough textured and the tissue was very soft.  It was easy to pull a piece off with your fingers.
On the inside the right side chambers had a few differences to a normal heart.  The right atrium and ventricle were both very circular in shape compared to a typical heart.  The pectinate muscles and the trabeculae carnae were almost non-existent so inside the right side chambers was very smooth.
There was a layer of tissue on the outside that was obviously different to the rest of the myocardium.
The pericardium was separate and appeared quite normal, as did the rest of the pluck.
At the outset we thought we might have a parasitic infection and were a bit disappointed to find no evidence of it when we opened up the heart.  Perhaps it was a congenital defect or a viral infection that caused it?  If anyone has any insight into what we had then we'd love to hear it.   Drop us a line here.

This entry was posted on August 25. 2015 by Miss Vivi
Special Specimen: skull deformity in a stillborn piglet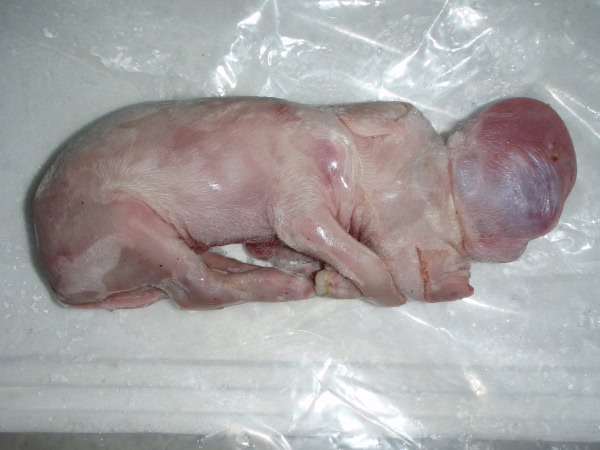 This little piggy was never going to make it to market, unfortunately.
Born without part of its skull and the brain or fluid protruding, it's the only one we've ever seen here.  As far as we can tell everything else is completely normally developed, but you won't really know until you perform a necropsy.
I have asked around for a name for this condition and if the Twitterverse sends one back to me I will post an update.  In the meantime,  if you would like to hear about these special specimens when they do pop up then join our What's in Miss Vivi's Freezer mailing list.

This entry was posted on August 25. 2015 by Miss Vivi