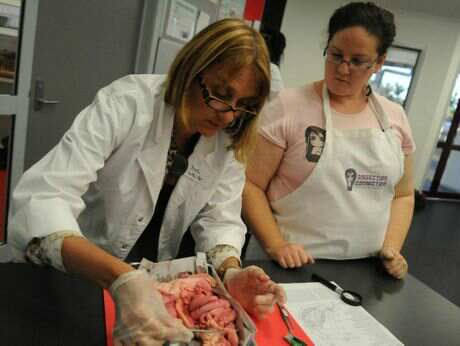 Teaching science can be a tough gig.  There seems to be no end to the cool experiment ideas on the internet that you can try in the classroom.  But you don't always have time or the confidence to check it out first and there is nothing worse than a science lesson that falls flat because the internet lied to you.
What if you didn't have to 'squeeze science in'?  What if you knew how to make science part of every lesson?
Fizzics Education offers a free teacher PD workshop for schools that book school workshops.   This is not a powerpoint presentation; it's a bunch of experiments demonstrated to your staff that have been classroom tested.
We can also arrange this via video conference if time does not allow us to present this on the day of your school visit.
Miss Vivi has seen the difference even a quick one hour workshop can make to a teacher that wasn't sure where to start with a specimen.  Let Dissection Connection and Fizzics Education give you a set of skills that will make you the best teacher you can be when it comes to delivering science in and out of the classroom.
Pop over and have a look at all the gory bits on their website and while you are there check out the other FREE resources they have for teachers.
Fizzics Education also currently deliver in-person science workshops into Sydney, Melbourne, Brisbane, Gold Coast, Sunshine Coast and also do Regional Visits.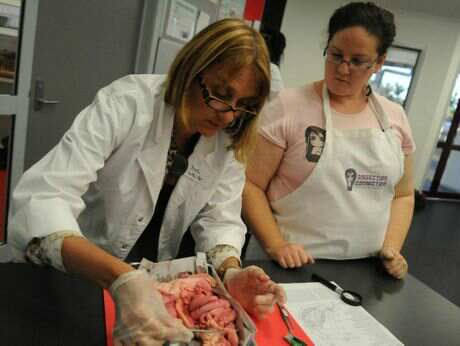 Looks like it is the end of an era here at Chinchilla SHS. No more rat dissections!!!!!!!
The teacher and students loved Miss Piggy and we had other teachers coming in for a look. The Biology teacher declared it "Way Cool" and I am impressed with the lack of smell (unlike rats) and much easier to identify organs etc.
The teachers only concern was that we usually get pregnant rats but I feel we can show the reproductive systems better using uterus and testes specimens in conjunction with male and female piglets.
Thank you so much for the piglet I believe my teachers have seen the light and been converted. I know I have.
– Sheena Wolens, Chinchilla State High School