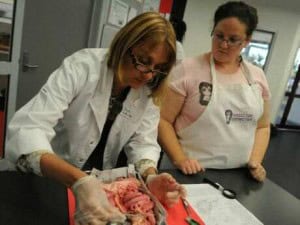 Teaching science can be a tough gig.  There seems to be no end to the cool experiment ideas on the internet that you can try in the classroom.  But you don't always have time or the confidence to check it out first and there is nothing worse than a science lesson that falls flat because the internet lied to you.
What if you didn't have to 'squeeze science in'?  What if you knew how to make science part of every lesson?
Fizzics Education offers a free teacher PD workshop for schools that book school workshops.   This is not a powerpoint presentation; it's a bunch of experiments demonstrated to your staff that have been classroom tested.
We can also arrange this via video conference if time does not allow us to present this on the day of your school visit.
Miss Vivi has seen the difference even a quick one hour workshop can make to a teacher that wasn't sure where to start with a specimen.  Let Dissection Connection and Fizzics Education give you a set of skills that will make you the best teacher you can be when it comes to delivering science in and out of the classroom.
Pop over and have a look at all the gory bits on their website and while you are there check out the other FREE resources they have for teachers.
Fizzics Education also currently deliver in-person science workshops into Sydney, Melbourne, Brisbane, Gold Coast, Sunshine Coast and also do Regional Visits.