Just Wash! Awesome video by The Children's Hospital of Philadelphia
Public service announcements don't need to be sombre and serious.  Even the serious stuff needs a little lightening up.  The Children's Hospital of Philadelphia nails it in this video about the importance of hand washing to the tune of Uptown Funk.  Awesome stuff for the lab safety unit at the beginning of the year especially if you combine it with the Glitter Handwashing Experiment and our free downloadable Hand Washing and Glove Removal posters here.
So, channel your inner Bruno Mars, and don't believe me – Just Wash!

20 Jan 2016
This entry was posted on January 20. 2016 by Miss Vivi
Funny Bone: why if we didn't laugh, we'd cry (or, where are my hearts??)
So, just when we thought we'd ferreted out all the ways that supply could possibly be interrupted we get thrown another doozy this week.  Mr Vivi duly arrived early to work this morning and threw open the cold room door expecting boxes and boxes of lamb hearts to be waiting for him in there.
What he actually found in there was…… nothing.
So, on the phone to the supplier it was.
It turns out that the wild weather off Melbourne last week that led to a bit of a catastrophe with the Spirit of Tasmania breaking its moorings and smashing up the dock also led to a bit of a catastrophe in the world of The Meat Men.
Passengers left stranded after #SpiritofTasmania damaged https://t.co/8NBI7Xv5dc

— ABC News 24 (@ABCNews24) January 14, 2016
Spirit of Tasmania appears to have broken its mooring & is drifting towards the beach pic.twitter.com/8ZmS74LUyf — George Donikian (@GeorgeDonikian) January 13, 2016
No ships between Melbourne and Tasmania mean no Tasmanian lamb to the mainland either … or their hearts.  So here we sit, Australia Day and the first day of school almost upon us and we are lamb-less.  It's un-Australian! #funnynotfunny
And that, Vivsters, is why if we didn't laugh we'd cry.

18 Jan 2016
This entry was posted on January 18. 2016 by Miss Vivi
Funny bone: the geeks shall inherit the earth
Photo: Kiah Krassey
Science is serious stuff, right?  WRONG!
Behold the new lab freezer in a South Australian school!  Purpose bought to hold more of our incredible specimens so they can save on delivery costs and macabrely decorated by the incredibly funny lab tech.  How brilliantly cool is that?  For those of you that don't recognise the pop culture reference on the sign -> go and read up on Officer Friendly and his band of merry men.
I don't know where the traditional image of the mild mannered, white coated, serious minded scientist came from.  Over the years I've met and worked with some of the wackiest, funniest and weirdest people you're ever likely to meet and they've all been brilliant minds of science.
Make no mistake, Vivsters, the geeks shall inherit the earth.  And when they do it's going to be one big liquid nitrogen ice-cream making party.  Woot!

April 13, 2015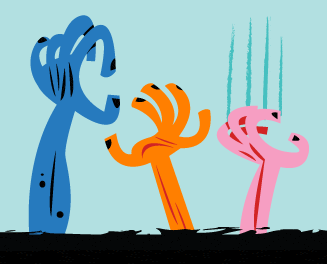 This entry was posted on April 13. 2015 by Miss Vivi
DIY Papercraft Skull from Skull-A-Day
Despite being a bit like Penny from The Big Bang Theory when it comes to craft I do like to have a go from time to time.  As long as it is easy, doesn't involve waiting around too much for glue or paint to dry or a special trip to the shops I'm usually up for it.
Enter the DIY Papercraft Skull with Articulated Jaw from Skull-A-Day.  TaDa!
It'a as easy as:
Download here –> skull-a-day
Print
Cut out
A little sticky tape here, a little there
Assemble and run around the house snapping the jaws and making Unh Unh Unh noises
I reckon this has got end of year classroom activity written all over it.  Add a bit of glitter, felt and cotton wool and you'd have yourself a Snapping Santa Skull.
Send photos!

Nov 5, 2014
This entry was posted on November 06. 2014 by Miss Vivi