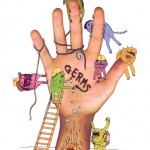 I think sometimes we forget that we aren't born knowing how to do things 'the right way'. I've been conscious of washing my hands properly and taking my gloves off without cross contaminating other surfaces for so long that I don't even realise I'm doing it anymore. I remember being in the ladies at work one day washing my hands and a science teacher was standing next to me. She looked over at what I was doing and said:
"You wash your hands like a lab tech."
I looked down and I was soaping between my fingers and I had suds right up around my wrists.
I've had these hand washing and glove removal posters for a long time and I've always put a copy up next to the sink in the classrooms where I'm working.  I can't find a link to them anywhere now, but I do know that they were originally shared by some very generous labbie on a lab tech discussion list quite a few years ago.  I've also kept a laminated copy of each to put out with dissection equipment and I've always made a point of  getting around to each group in the classroom and showing the kids how to take their gloves off properly.  Click on the image to download a copy of them for yourself.
The "Scrub 'em!" poster is available from 1st-in-handwashing and is a bright, colourful reminder to wash your hands that appeals to kids so it's good for toilets and around tuckshops.  Click on the image to see a bigger version.