New year, new shoes.  Silver glitter Doc Martens. That's how we're gonna roll in 2019, Vivsters!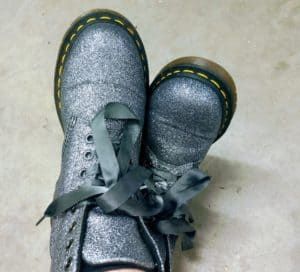 I was pretty stoked to find these boots in a shoe shop in Canberra in December.  Last time I went to a Docs shop they were thrilled to be able to offer me a choice of black or blue *yawn*
My mum says I'm going to cry the first time I spill blood on them – and she might be right – but I promised Mr Vivi I would try and be more cheerful on the way to work in the mornings if I had them on my feet.  Miss Vivi is NOT  a morning person!
It's the first day back at school and lots of you will have new shoes.  Show us what you've got, Vivsters!