What holds a pig up?  The internal skeletal system in the Kingdom Animalia, sub-Phylum Vertebrata, which includes mammals (pigs), fish, amphibians, reptiles and birds has many functions.
Cervical vertebra. Includes 7 cervical vertebra (atlas, 2-7), 4 thoracic vertebra and the first 4 sternal ribs. There are always 7 cervical vertebra in pigs (and humans). In Figure 1 you can see the spinal cord and vertebral disks too!
Thoracic vertebra. The specimen shown in Figure 2 includes 9 thoracic vertebra, ribs, vertebral disks and spinal cord. The number of thoracic vertebra varies between pig breeds from 13-17. Where do the ribs attach to the vertebra? Find out this one time only, $6.00.
Figure 3 shows the shoulder joint. It includes the scapula, humerus and fused radius and ulna. One only in stock at the moment, $6.50. If you need more than one Miss Vivi can order these for you.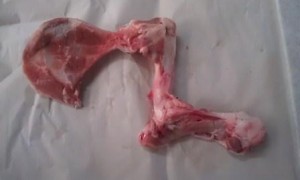 Loin chop (Figure 4). NOT FOR SALE – it's for Mr Vivi's dinner. But you can see the elongated transverse process on the lumbar vertebra (the bone pointing to 8 o'clock) that supports the strong muscle (yummy meaty bit) that in turn supports the viscera in the abdominal cavity.
Pig tail (Figure 5). Tail bones are called caudal bones. The number of caudal bones varies between species of pig between 20 and 23. How many does this one have? Find out for $5.00
See how all the bits fit together on this model  in Figure 6. http://www.fallingpixel.com/pig-skeleton-3d-model/39932
If you have the need for bone specimens for a class in science or physical education, get in contact with Miss Vivi as she can source a wide range of specimens as a special order.