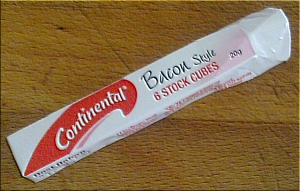 At last, a reason to link to Not Quite Nigella!
Not Quite Nigella is part of my Secret Blog Business.  Late at night, while Mr Vivi is getting ready to go to bed and I am waiting for him to get out of the bathroom, I sit and pretend to be shutting down my computer.  What I'm really doing is catching up on my blog feeds and Not Quite Nigella has risen in the ranks to be one of the first folders I open to read.
Tonight, in honour of Australian Bacon Week (have you heard it's Bacon Week?) I am making an original Not Quite Nigella recipe for dinner and writing about it as an excuse to spread the word about the fabulous NQN blog.  She's funny, she's adventurous and she takes much better photographs than I do.
Tonight for dinner it's NQN Cauliflower and Bacon Soup.  Super easy to make and smells fantastic on the stove.  I used a bacon stock cube and a chicken stock cube to make the stock, added some fresh nutmeg to the pot and some onion to the crumble topping.  I also didn't bother to blend it in the food processor because I don't mind chunky soup and I didn't want to do the extra washing up.
We'll be having it with a glass of Squealing Pig sauvignon blanc.
Have you got a good bacon recipe, Vivsters?