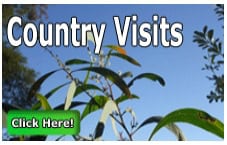 "As long as we can fit the school workshops in our utes, we can do it!" says Ben Newsome from Fizzics Education.  With 10 years experience in science education he's had some practice at packing that ute.  And Miss Vivi will be more than happy to chuck an esky full of bits and pieces on the back for you as well.
Don't think for a minute that your kids have to miss out on first rate science events at school just because you live off the beaten track.  That's where the Fizzics Education Country Tours program flexes its muscle.
Fizzics Education will mix and match science shows & workshops to suit every situation.  They are flexible with arranging things around your schedule and location, too – they just need to know what you have in mind.
As long as you've got them there why not turn it into a school camp!
Pop over and have a look at all the gory bits on their website and while you are there check out the FREE resources they have for teachers.  Book a session and get teacher PD at your school afterwards!
Fizzics Education also currently deliver in-person science workshops into Sydney, Melbourne, Brisbane, Gold Coast & Sunshine Coast